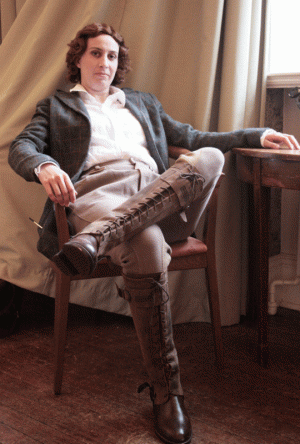 Orlando and Vita & Virginia
---
Nigel Nicholson, the son of Vita Sackville-West, famously described
Orlando
as "the longest and most charming love-letter in literature". It "[is] all about you, and the lusts of your flesh and the lure of your mind", wrote Virginia to Vita as she began work. And many years later, it still stands as a testimony to the love and affection between two remarkable women: Vita, the model for the central character, and Virginia, who immortalised her vision of Vita in a masterpiece of modern literature.
The seeds of Orlando's conception may potentially be detected early in the play: from the start, Virginia describes Vita's physical appearance in masculine terms, yet still calls her "what I have never been – a real woman". This androgynous vision of Vita, as well as the glamorous excitement and freedom of Vita's life, travelling the world as an aristocratic diplomat's wife, may well have laid the first foundations of the moment when Virginia sat down and "wrote these words, as if automatically, on a clean sheet: 'Orlando: A Biography'".
Orlando
stands at the centre of
Vita and Virginia
. Its publication, early in Act II, marks the culmination of everything we have seen in the first half – the ultimate intimacy, as Virginia finds herself "living inside" Vita for months at a time (a process which Vita, far away in Berlin, finds consoling – they may be miles apart, but Orlando "compels you willy-nilly to spend a certain amount of your time with me"). At the same time, its publication marks the beginning of Virginia's final decline into the mental instability that will cause her to take her own life at the close of the play.
Of course,
Vita and Virginia
is about more than the publication of one book, however influential. It is a story of love and friendship spanning two decades – an affection which survived, perhaps even against the odds. But, to quote Nigel Nicholson once more, in
Orlando
Virginia succeeded in rendering Vita "immortal, transforming her story into a myth". I can think of no better legacy for their story than that.
Cate Field
Director