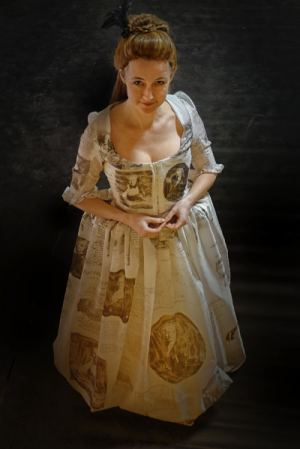 Émilie: La Marquise du Châtelet Defends Her Life Tonight
February 11-15th, Simpkins Lee Theatre, Lady Margaret Hall, Norham Gardens, Oxford
---
"In a lifetime of theatre-going this is a stand-out production."

Reviews
"Lauren Gunderson's play is wonderfully theatrical, intelligent and full of warmth" - Oxford Theatre Review
"It is quite astounding that a piece as interesting and well-crafted as Emilie is only just receiving a European premiere - but it is to the enormous credit of ElevenOne Theatre that they are the company to do that. " - WhatsOnStage
"The play's greatest asset is Helen Taylor who plays Émilie with indefatigable wit and strength." - DailyInfo.co.uk

Reviews of previous productions
'fiercely inquisitive and joyfully sexy' - The San Francisco Chronicle
'An evening of humor and heartbreak' - BroadwayWorld
'ambitious, highly theatrical romp that literally crackles with electricity' - LA/OC Examiner.

Émilie was a genius of the Enlightenment who carried out ground breaking work in mathematics, while scandalising the French court with her flirtatious behaviour. Voltaire was one of her long-term lovers, she translated and improved Newton most famous works and was an outstanding scholar in her own right.
ElevenOne Theatre is proud to be presenting a series of three plays about great scientists and their work, during Spring and Summer 2014.
Our first play is about Émilie, La Marquise du Châtelet, an outstanding scholar of eighteenth century France. A courtier and socialite who was married to a marquis at just eighteen, famous for her skills as a card player and the subject of much court gossip for her flirtations, Émilie as also a genius of the Enlightenment who carried out ground breaking work in mathematics. While she is probably best known today for her
long affair with the philosopher Voltaire
, her work on the physics of energy was part of the story which
led to the discovery of E = mc
2
. She was
the first woman to be published by the Académie Royale des Sciences
with her 1739 Dissertation
Sur la Nature du Feu
.
"Judge me for my own merits, or lack of them, but do not look upon me as a mere appendage to this great general or that great scholar, this star that shines at the court of France or that famed author. I am in my own right a whole person, responsible to myself alone for all that I am, all that I say, all that I do. " Emilie du Chatelet
'ElevenOne is fast acquiring a reputation for slightly offbeat but thoroughly enjoyable theatre' (What's On Stage)
How to find Lady Margaret Hall, Norham Gardens, Oxford
Cast
Emilie: Helen Taylor
Voltaire: Nick Quartley
Gentleman: Simon Marie
Soubrette: Sara-Jayne Slack
Madam: Philippa Bilton

Posted by Mike Taylor, Jan 31, 2014