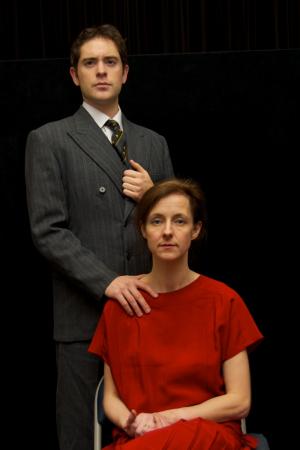 Cast and crew of Tom and Viv
---
Cast
Lisa Barnett (Rose)
Lisa moved to Oxford a year ago, and is thrilled to be a part of this production. Her first experience in the area was playing the Nurse in Antigone with OTG at the Oxford Playhouse last March. Lisa trained at LAMDA and the Actor's Studio Drama School in NYC, and has been a professional actor in London, San Francisco and New York, performing in everything from Shakespeare to musicals and voice-overs. Lisa moved here from Tampa, Florida when her husband Mike was offered a professorship with Oxford University, along with their two fabulous kids, Lauren (almost 7) and Jack (5).
Donna Doubtfire (Louise)
Donna's first theatrical role, aged 11, was playing Sleeping Beauty at school. The glamorous dresses made such an impression she decided acting required further investigation. She soon realised the theatre was full of wonderful people and it has been her favourite place ever since. Her favourite roles as a professional actress include Lorna in the award winning West End show 'Gary', the White Lady in the Bafta winning TV show 'Lion Mountain', and Annie in 'Rush', a drama that ran for five series as part of a deaf culture programme VeeTV. Earlier this year Donna played Kath in Entertaining Mr. Sloane, and performs regularly in Murder Mysteries. Donna is now something of a stereotype, living on a council estate as a single mum with her three kids.
Brian Earp (Tom)
Brian Earp (Tom) is an Oxford psychology graduate student and native of Seattle. With over 40 leading roles in professional and university theatre (New York, regional, and Yale), Brian is delighted to be making his European debut with Eleven One Theatre. Favourite roles include John in the Seattle premiere of "John & Jen," Will Jr. in "Robin Hood" opposite Disney's Christy Carlson Romano in New York (directed by "Annie" creator Martin Charnin), the Beast in "Beauty & the Beast" with Broadway's Carol Swarbrick, and recently Septimus in "Arcadia," Salieri in "Amadeus," and Billy Bigelow in "Carousel" at university. Brian holds a B.A. in cognitive science from Yale. See web.mac.com/brianearp for more information.
Cate Field (Photographer / Clerk)
Cate has been involved in all of 111 Theatre's productions to date, having stage managed Private Lives in 2009 and played Catherine de Brie in La Bete this January – and she is delighted to be carrying on the pattern by appearing in Tom & Viv. Other recent roles in Oxford drama have included Portia in The Merchant of Venice (BMH), Ismene in Antigone (Oxford Theatre Guild) and Octavia in Antony & Cleopatra (Oxford Theatre Guild), as well as a whole range of river-bank folk in Wind in the Willows (BMH).
Will Fournier (Maurice)
WIll Fournier started acting career whilst at Oxford Brookes, working with their drama society, and continued to be a committed member while at University, He performed in a number of shows, highlights including Mickey in Blood Brothers and Dr Arthur Seward in Dracula. Outside of university he has recently been playing MIchael in The Pillowman at the Oxford Castle and previously took the role of Peter in The Lion, The Witch and The Wardrobe for the OFS studio. He is very happy to be involved in Tom and Viv and is hugely enjoying working with a new group of wonderful actors!
Nick Quartley (Charles / Janes)
Nick has been acting in Oxford since 1975, most recently with the Oxford Theatre Guild in Anouilh's 'Antigone' (Oxford Playhouse, 2010). With his advancing years he finds himself being cast in increasingly curmudgeonly roles, including an irascible Gloster in 'King Lear' and a scheming Archbishop of Canterbury in 'Henry V'. He recently retired from managing the North Wall Arts Centre in Summertown.
Simon Tavener (Barrister)
Simon has been involved with all things theatrical for close to thirty years. Although these days he is primarily a director, recent roles have included Hector (The History Boys) and Father Christmas (The Lion, The Witch and the Wardrobe). His next project will be directing Humble Boy by Charlotte Jones at the Oxford Playhouse in April 2011 (for Oxford Theatre Guild) after which he intends to resume work with his own company Oxford Triptych Theatre.
Helen Taylor (Viv)
Helen Taylor directed ElevenOne Theatre's first two shows, Private Lives (2009) and La Bete (2010) but most of her theatrical experience is onstage rather than off, and she has performed in more than eighty shows in London, Edinburgh, and Oxford. Most recently she played Cleopatra (another volatile character!) in Oxford Theatre Guild's open-air production of Antony and Cleopatra . Favourite non-Shakesperian roles include Frankie in Frankie and Johnny in the Claire de Lune by Terence McNally (Class ACT Theatre Co), Mary in The Memory of Water by Shelagh Stevenson (OTG), and Constance Ledbelly in Goodnight Desdemona, Good Morning Juliet By Anne Marie McDonald (Totally Portable Theatre Co).
Director
Joe Kenneway
Joseph has been active in Oxford's theatre scene for many years primarily as a performer. His last directorial outing was an outdoor production of As You Like It for Oxford Theatre Guild in 2008. Early on he worked out his guiding principle: never direct a show because there is a part in it you desperately want to play. Tom and Viv was imprinted in his theatrical memory from seeing the original production at the Royal Court in the 80s, and he realized he could never match Julie Covington in the most appealing role. This ElevenOne revival has finally given him the opportunity to explore the writing and psychology that makes it such a deceptively simple yet compelling piece of drama.
Production team
Chris Cooper (Lighting Designer)
Chris rather stumbled across technical theatre after an illustrious acting career, playing some of the pivotal roles in British Theatre - Dead body 4 and Man with Newspaper, to name but two. However, the change to technical theatre has seen him work with the Oxford Theatre Guild on shows such as Antigone, Antony and Cleopatra, and Henry V. As resident technician at the Marlborough Enterprise Centre, he has lit dance, music and theatre performances. Still an enthusiastic (if not talented) actor, he is often seen in comedies and pantomime. he is also taking his first, tentative, steps into writing.
Vince Haig (Set Design, Graphic Design)
Vince Haig is a talented model maker, illustrator and photographer with a large portfolio of publicity and web design work.
Mike Taylor (Production Manager, Stage Manager)
Mike is a co-director of ElevenOne Theatre Limited who looks after the non-acting / non-directing parts of the company. During the day, he works in Elsevier Labs doing R&D down at the funky end of science publishing. He took on his first acting role as Leonato in Oxford Triptych's Much Ado About Nothing in 2010 and will be acting again in 2011.
Dan Whitley (Lighting and Sound Operator)
Dan usually finds his theatrical time occupied either Stage or Production Managing - so it's a welcome change to be positioned up in the box for Tom & Viv. Recently for Oxford Theatre Guild, he has Stage Managed Antigone and Antony and Cleopatra, while Production Managing credits include The American Pilot and A View from the Bridge. Having promised to work with ElevenOne since their conception, Dan is delighted that the dates have actually worked out this time!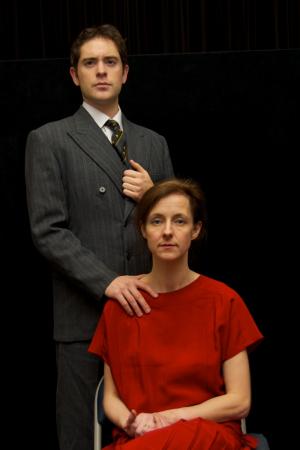 Posted by Mike Taylor, Mar 3, 2012